Processed Black Welsh Mountain Wool Rovings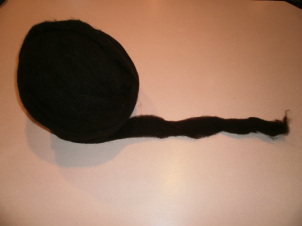 These rovings are from the fleeces shorn from our small flock of Black Welsh Mountain sheep. This breed is a heritage breed of sheep that is considered to be somewhat endangered or rare in the sheep world.
This unusual wool is thick and deep black in color. The Black Welsh breed standard is for short wool, firm to handle and of medium softness. The fleeces were approximately 3" thick prior to washing.
These 16oz rovings were processed (cleaned and carded) by the Frankenmuth Woolen Mill in Michigan. Each roving is 1 lb (16oz) and approximately 12" in diameter. These rovings are priced at $25 each plus $11 for shipping in the continental US. Additional rovings may be purchased at the same price but with reduced shipping cost of $5 each. Each roving will be individually bagged for shipment. All of our wool products are also available on
www.etsy.com
.
(CURRENTLY OUT OF STOCK)
---
Black Welsh Mountain Raw Fleeces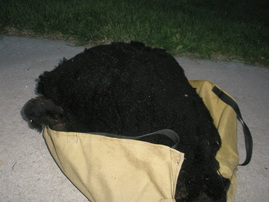 A lot of fleece with thick, deep black color! These fleeces generally weigh
between 3 to 5 lb each and they were skirted prior to shearing to remove the
belly wool and vegetable matter. These are raw fleeces with some alfalfa fines
in them and they will need to be washed as they contain the typical oils.

This wool is thick and deep black in color. The Black Welsh breed standard is for short wool, firm to handle and of medium softness. These fleeces are approximately 3" thick. The softest fiber is at the shoulder area. The fleeces were lightly skirted so you get the entire range of wool with each fleece.

These fleeces typically range in weight from approximately 3 to 5 lb each and are priced at $25 per fleece. We will ship the fleeces with the heaviest and nicest going first - but all of the selections are of good quality. Each fleece will be individually bagged for shipment.
---
Lamb meat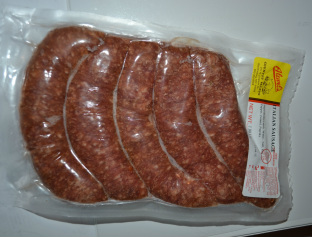 We do not currently have any lamb in stock but we frequently sell lambs for butchering at local butchers. Generally, spring lambs are processed in November through March. Typically, choice of cuts include racks, chops, ground lamb, and roasts.
Contact us
if you're interested in a whole or half lamb for the freezer - or if you are interested in buying a
live wether for butcher
.
---
Barn Lumber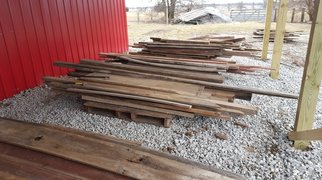 As we restore the old barn on our farm we frequently have some high quality barn lumber available for sale. The size and quantity frequently vary but the siding usually runs between a 1X6 to a 1X16 in size in lengths from 4 foot to 15 foot. We also have some structural lumber from the same project. Estimates on the age of the original barn are approximately 125 years old so the siding in particular is well weathered. Most of our customers use the lumber for interior decoration, crafts, or to build furniture.

This project will continue through 2016 so additional lumber will become available as we progress. Call or email us if you are in the market for old barn wood!




---