Blueberry Varieties selected for flavor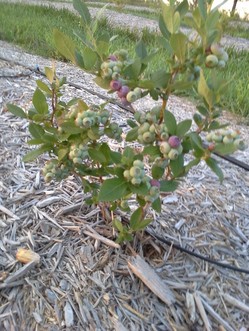 In 2015, we reached our goal of planting all twenty of the berms that we have built and prepared for blueberries. Each berm holds 40-50 plants and we planted them at a pace that we can support them with our labor and irrigation. We planted three trial berms in 2012 and followed up with four more in 2013 and an additional five berms in 2014 and 2015. While this process seems slow, our attention has been to select our varieties carefully for maximum flavor and picking season. We have standardized with the five varieties listed below:

Duke Blueberry: A very early ripening blueberry (mid to late June). A vigorous, upright bush with consistently high yields. It is the most widely planted early ripening high bush variety. It blooms later than other varieties but ripens early which protects
the fruit from late spring frosts. The medium sized fruit has good color, excellent flavor and firmness and grows in open clusters which makes harvesting easier.

Patriot Blueberry: An early season berry which ripens ahead of Blueray, and about the same time as Northland. The fruit is large, small scarred with good color, and has very good, slightly tangy flavor. The bush is vigorous, upright and relatively open.

Blueray Blueberry: A mid season berry that ripens a few days ahead of Bluecrop. The fruit is very large and firm and produces an aromatic flavor good for pies and jam. The clusters are large and very tight. The bush is vigorous and productive. This berry is popular for the u-pick trade and is similar to Bluecrop but sweeter.

Jersey Blueberry: A late mid season berry. The fruit is medium sized, has medium scar, fair color, fair flavor and is firm. The bush is very vigorous and productive. the clusters are long and loose. It is suitable for mechanical harvesting and is the most widely planted variety in Michigan.

Nelson Blueberry: Another late mid season berry that was released by USDA in 1989. The fruit is large, firm, light blue, has good flavor and scar. The bush is vigorous, upright, and is suitable for commercial and pick-you-own harvest. Yields have been high in test planting at Grand Junction, Michigan.

---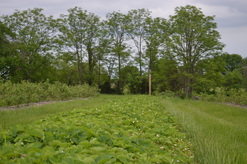 Strawberries for springtime family fun

The strawberry patch at the farm has become a family favorite for May and early June! Our strawberries are a mix of Albion (Everbearing) and Earliglow (June Bearing) berries that produce great flavor for pies, jams, or just eating by themselves. The berries are really producing well this year and we hope to see you soon for picking.




---
You pick 'em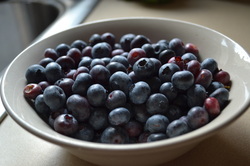 We want you to pick our berries so that we don't have to! Seriously, blueberries and strawberries bruise easily when handled and they sweeten very rapidly once bruised. That's why the berries that you find in the grocery store frequently have a bland flavor. Our blueberries and strawberries explode with flavor when they're picked fresh. Its a picturesque setting and a fun family activity so plan on coming out during picking season. Sign up for our email notifications so that you will get a reminder when picking is at its prime for each variety. Use our
online scheduler
to make an appointment to pick berries once they're ready. We won't sell your contact info or spam you - we just want you to enjoy fresh berries!
See our on-line scheduler to set an appointment to pick berries!
---